---
R&R Legacy News and Musings
Posted by Jarrett Leone on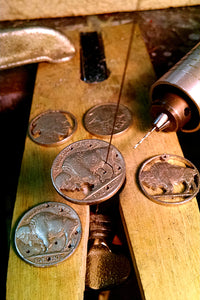 A customer of mine asked me for a list of tools for someone to get started cutting coins, so I thought I'd copy that email here for anyone interested. Everyone has their own preferences and opinions on tools and technique, but this is just my recommendation and a good place to start.*I have no stake in Otto Frei and these tools can be found in a lot of places. Otto Frei just happens to be one source use, and to make it easy for someone to find everything in one place, I chose their site arbitrarily. Saw Frame https://www.ottofrei.com/German-Adjustable-Jewelers-Sawframes-?quantity=1&custcol_of_xc_throat_depth=1 There are lots of fancy...
---
Posted by Jarrett Leone on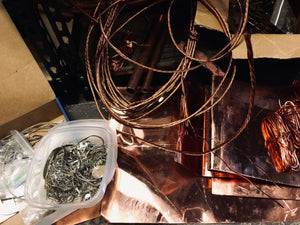 Whether it is jewelry or sculpture, I love using recycled and salvaged materials, and found or repurposed objects in my work.
For one thing, I love the process of finding the materials. It's like a treasure hunt. I might be sifting through the piles of metal and strange objects at the scrap yard, digging through a chest full of random world coins at an antique store or randomly finding something really cool on a walk around town or hike through the woods. Either way, It's really fun for me.
---
Posted by Jarrett Leone on
I love using circulated currency as an artistic medium. Each coin has its own story to tell. As I am working, I wonder-- where has this coin traveled? What was traded for it? How many lives has it connected before finding its way to my workbench to be transformed into a unique piece of jewelry?